Our Lady of Lourdes Church History
The history of Catholicity in this parish goes back to the early settlers of 1883, three or four years before the City of Ravenna was established.
The following settlers figured quite prominently in the starting of this parish, namely; to the North of Ravenna (a community known as Dry Creek): Michael Buckley, Robert and John O'Neill, Peter McKeon, Peter Kramer, Thomas Curran, John Michie, James Coulter, Charles Coulter, Bert Edwards, William Couton, William Quinn, Blasé Bugno, Anthony Kyne, Peter Jungles, and Peter Moritz.
To the South of Ravenna (Schneider Township): John Schuller, Frank A. Schuller, Franz Schuller, Thomas Blaschko, Mathias Hirsch, Mary Vogt, Joseph Muegerl, Anton Keaschall, Louis Schuller, Mathias Stittle, John Muegerl, Joseph Kriha, Frank Chramosta, Joseph Novotne, James Polke, Martin Fisher, Frank Havlik, Frank Vokoun, and Frank Kriha.
Settlers in and around Ravenna: Joseph Jelinek, John Hochreiter, Antonia Hlava, Joseph Shebl, Joseph Bohac, Barta Kase, Mrs. Frank Fiala, Frank Helebrant, Rudolph Hosek, and James Karel.
It was these families who, with faith in God, hard labor and perseverance, prepared the ground for the first seeding of Catholicity in and around Ravenna, despite many dangers and hardships.
According to the history available, their sacrifices and efforts bore the first fruit in 1883 when the first Mass was offered in the Buckley home, a few miles north of Ravenna. This gave them such joy that they decided to have Mass once every month, taking turns so that Mass would be offered at least once in each family's home. Naturally, this called for extra work -- cleaning and decorating in order to prepare the home for the Sacrifice of the Mass; but it was no burden to any since they realized the importnce of thier souls. This continued from 1883 to 1887 with Father Boyle attending for the first years, and Father James Haynes the following three years.
The same interests, efforts, and successes were shared by the early settlers South of Ravenna, and also those in and around Ravenna. To the south — Mass was offered in the homes of Mary Vogt, Joseph Muegerl and Frank A. Schuller. The present Adamson Market was one of the many buildings where the Sacrifice of the Mass was offereed in the city itself. This religious growth went on for several years until the communities in and around Ravenna grew in size and population, opening the opportunity for these people to consolidate and build a church in Ravenna. This would enable them to attend Mass more often and serve a greater number of people.
And so in 1887, the first Catholic Church was built in Ravenna. The ground on which the church was built is describe as Lots 10, 11, 12, in Block 12, City of Ravenna. Originally, the title to this plot of ground was given by the United States Government to Union Pacific. In 1880, Union Pacific sold it to Erastus Smith and Lincoln Land Co. In 1886, Erastus Smith and Lincoln Land Co. laid out the town of Ravenna. Lots 10, 11, 12 in Block 12 were purchased by the Most Rev. Bishop James O'Connor, Bishop of the diocese.
The building was a wood frame building measuring 50 feet long, and 32 feet wide. It included a sanctuary, two sacristies, and a choir loft.
Its seating capacity was for about 150 or 160 people. The altar of the church was merely a table which contained only the things necessary for an altar. At first there were only a few chairs and most of the people had to stand. Gradually more chairs were added to eventually accommodate the entire congregation. It was three or four years after the building of the church that the people were able to furnish the church with pews. For some time, the building was heated by a "pot belly" stove which stood in the center of the church.
The pioneer priests who have served at Ravenna were : Fr. Haley, Fr. Philip (Filip) Maly, Fr. Wm. Choka(Omaha), Fr. John Muller (St. Libory), Fr. Uranek (St. Libory), Fr. John Steven Broz (St. Paul), Fr. Vulcek, Fr. John Hodye (Grand Island), Fr. Joseph Chundelak, Fr. John Giesler, Fr. John Stocker, Fr. Charles Mugan, and Fr. Anthony Duda (Broken Bow).
In 1899, during the pastorate of Father Duda, money was collected for the building of a rectory, but because of difficulties, the uncashed checks were returned to the members of the parish. At this time, the people of the South made plans to build a church South of Ravenna (Schneider Township) closer to their homes.
In August 1899, a meeting was called by Thomas Blaschko and plans were made to erect the church in their midst. Mrs. Juliana Muegerl donated threee acres of land. One acre was to be for the church and two acres for the cemetery. Before this time, burials took place in the Bohemian Cemetery. Some of the bodies were later disinterred and removed to the present St. Joseph's Cemetery. The church was to be named St. Joseph's Church — in memory of Juliana Muegerl's deceased husband.
This building project began October 2, 1899, and was dedicated May 6, 1900, during the pastorate of Father Wolf. In this event, Ravenna lost twenty-five to thirty families. Thomas Blaschko Sr., Frank A. Schuller, and Franz J. Schuller were the Building Committee.
Priests that served St. Joseph's Mission are as follows, namely; Fathers Chundelak, Hancik, Petlack, Lynch, Kennedy, Roth, Monaghan, McDaid, Kavanagh, Moser, Aloysius, Weise, Fitzgerald, Hovorka, Heimes, and Wolf.
In 1903 or 1904, a new main altar was donated to the Ravenna Church by the Peter Moritz family while the side altars were donated by the present Sr. Thomasilla.
In 1903, Rev. Fr. Hancik, who was Ravenna's first resident priest, built the priest rectory. This was built at a cost of $2,500. This money was donated by people in and around Ravenna (including the south which Fr. Hancik attended at the time as a mission). Up to this time of the building of this rectroy, the Barbara Hosek residence (which was occupied by Marie Keaschall) accommodated many of the priests who serverd Ravenna.
Father Hancik, first resident priest, served Ravenna until 1906 while Fathers Moser and Wolf of Grand Island attended Ravenna until 1907.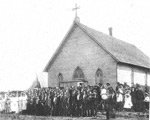 In 1907, Fr. Wolf of Grand Island took full charge of the South German Mission offering Mass twice a month, alternating with his assistants. Mass was celebrated also Monday morning after which he returned to Grand Island.
In 1907, Fr. Macourek of St. Paul was appointed pastor at Ravenna.
In 1909, Bishop Scannell of Omaha gave the Polish people of Ashton permission to build a church at Rockville, thus Ravenna lost a good many families to the North.
In 1911, twenty or twenty-five Czech families bought an old Presbyterian Church for $200 and moved it to Schneider Township, near their farms and homes. They built an addition and made it a Mission of Ravenna, naming the church St. Wenceslaus. It was February 9, 1913 that the first Mass was offered in this church. The church moving committee was as follows: Frank J. Chabal, Frank Kriha Sr., Vencil Polka (Treasurer), Amiel J. Hervert (Secretary), Frank Skala Sr. (Chairman). The church trustees of that time were Joseph W. Skala and Joseph J. Hervert.
Father Wolf from Grand Island faithfully served the German people south of Ravenna until in 1913, his health failed and he was compelled to give up the Mission. During these fourteen years, the priests (when at the Mission) stayed at the home of Mrs. Juliana Muegerl. Then Bishop Scannell assiged St. Joseph Mission to Ravenna under Father Macourek and once again this Mission became part of Ravenna. At this time, Father Macourek contemplated building a new church as the old one was too small to hold this crowd. But a proverb says, "Man proposes, but God disposes", and so it happened.
For sixteen or seventeen years, he faithfully attended the Missions twice a month. In 1930, when Father Macourek became unable to take care of a Mision, the Most Rev. Bishop Duffy transferred the Mission to Shelton, a distance of nineteen miles. Father McLaughlin took over the mission and offered Masss twice a month until in January 1938, His Excellency, Most Rev. Bishop Bona decreed that Mass be offereed every Sunday at the Mission for which the people were truly grateful. Father McLaughlin served the Mission until he became ill in December 1945, when Father Carl Hayden of Grand Island took over unitl March 20, 1946, and then Father Vincent Neppl was appointed Administrator at Shelton and Mission of St. Joseph. He served until October 4, 1947, when Father Joseph Bean was appointed Pastor to Shelton and consequently, the Mission — St. Joseph's.
For a short time, in the early part of 1949, because of Father Macourek's poor health, Father Paul Wachtrle of Grand Island traveled weekends from Grand Island to assist Msgr. Macourek.
August 18, 1949, Father Anthony Radziewicz was assigned to assist Msgr. Macourek.
Father Anthony Radziewicz, son of Benjamin and Teofilia (Czarniecki) Radziewicz, was born November 10, 1918. He received his grade school education at Ss. Peter and Paul's Porachial School at Plains, Pennsylvania and was graduated from Plains Memorial High School in 1936. In 1936, he entered Ss. Cyril and Methodius Seminary at Orchard Lake, Michigan, where he received his Bachelor of Arts Degree in 1940. From the Seminary he transferred to Mt. St. Mary's Seminary at Emmittsburg, Maryland, where he studied for a year, returning to Ss. Cyril and Mehtodius to complete his theological training. He was ordained into the Catholic Priesthood on June 3, 1944 in the Blessed Sacrament Cathedral in Detroit, Michigan by His Excellency, Cardinal Edward Mooney. He offered his first Solemn Mass on June 4, 1944, in Ss. Peter and Paul's Church in Plains, Pennsylvania. His first assignment in the Grand Island Diocese was at St. Paul as temporary Administrator, during Father John Gleeson's sickness. Shortly later, he was assigned as Assistant to Father James McMahon at Spalding. After three years of service at Spalding, he was assigned as Chaplain to St. Mary's Hospital in North Platte. About a year later, Father Radziewicz was assigned to assist Msgr. Thomas Murray for one year at Chadron. For one month, he served at Chadron as Adminstrator after Msgr. Murray's appointment to North Platte and before Father Ramond Miles' appointment as Pastor to Chadron. Subsequently, he was assigned to assist Father Joseph Muldoon at Sutherland (Paxton as Mission), who was in ill health during the year. On August 18, 1949, Father Anthony Radziewicz was assigned to assist Msgr. Joseph Macourek at Ravenna.
Msgr. Macourek seved Ravenna for forty-two years until the time of his retirement in October of 1949. In the meantime, the Most Rev. Edward Hunkeler, D.D., Bishop of Grand Island, assigned Father Anthony Radziewicz as Administrator of the parish.
Father Bean continued to serve the St. Joseph's Schneider Mission until June 27, 1950 when a terrific wind storm totally destroyed the Mission Church. With the intention of building another church, the people met with Bishop Hunkeler of Grand Island and becaused of the shortage of priests and with his eyes on the future, the Bishop discouraged the idea. In the meantime, they fulfilled their Sunday obligation attending Mass at the neighboring Mission of St. Wenceslaus. Within a very short time, St. Joseph's parishioners traveled a new route to serve God, and it was the Ravenna Road. Even though heartstrings were strained in this break from custom and feeling they still remained faithful and obedient to their Church and leaders because they fully realized that the soul is more important than the body, and perfect obedience leads to heaven, our true country.
It was in the fall of 1950 that the people of St. Joseph's Mission became officially part of Our Lady of Lourdes Parish here in Ravenna.
Consequently, the dream of a new church began to take on greater reality and shape. God was again showering the parish with exceptional blessings through our dearest Mother.
In August 1951, a bulding committee was organzied. The following being appointed: Stanley Roy as Chariman, Frank Landrigan as Secretary, Clarence Vandewalle and Carl Schuller as Treasurers, Michael McKeon, George Habe, John Erthum, John Stittle Jr., James A. Macek, Joseph Hofbauer Jr., and Joseph Blaschko Sr. The trustees of 1952-54, became part of the Building Committee by virtue of their office and position, that is, Paul Landrigan, Joseph Muegerl Jr., Joseph Muegerl Sr., Frank Chramosta, Martin Blaschko, and Martin Dudik.
In October 1951, the Bishop approved our intentions for the new church at Ravenna.
In April of 1952, the Building Committee made the first trip to Genoa (where a new church was being built) to establish in their minds an idea for the church at Ravenna.
On May 27, 1952, preliminay plans were presented to the Bishop and the Committee of the church.
In June of 1952, the Sisters of St. Joseph whose motherhouse is in Concordia, Kansas while teaching summer school observed how the parish was flourishing and with much devotion to St. Joseph as a builder and carpenter, buried a medal of St. Joseph on the premises.
On July 1, 1952, Father Anthony Radziewicz was appointed pastor of Ravenna by the Most Rev. John L. Paschang, Bishop of Grand Island.
July 28, 1952 was a sad day in the history of Ravenna Catholicity when the news of Msgr. Macourek's death at St. Francis Hospital was announced at the age of 84. He was greatly mourned in the parish and other places because his nobiliity of heart made a deep impression on all who knew him. He had administered to the needs of his flock and so has eternally established himself in the hearts of his people as the good shepherd — the good shepherd laying down his life for his sheep. He was laid to rest in Grand Island.
At the departure of Msgr. Macourek, Father Anthony took over the reins of pastorate with extra zeal and zest, launching the parish on a spectacular building program that was to set Our Lady of Lourdes among the higher brackets of the diocese.
In August 1952, the Building Committee made the second trip to Genoa, where they officially met with the architect and tentative plans were drawn up for the new church. A week or so later, a contract for a new church was signed between James A. Loftus A.I.A. of Omaha and Our Lady of Lourdes at Ravenna.
In September, the first official blue prints on the new church were presented by the architect to the church and approved by the Bishop.
In December, the Building Committee made a trip to surrounding towns to establish definitely, whether a stone or brick church would be built.
Later in December, the final blueprints were presented and approved by the Bishop and in the same month, bids were officially opened at Ravenna.
In January of 1953, Herman Woerth of Columbus was awarded the contract at $106,220.00, DeCamp and Sons of Neleigh for Plumbing $12,563.00, and W.C. Kelly for electrical work of $4,875.00, bringing it to a toatl of $123,658.00.
A meeting was held with His Excellency approving the project and giving permission for the "go ahead".
Immediately the old church was moved by men of the parish under the supervision and assistance of Frank Aden to make way for the project which was to set up this church as one of the finest buildings in Ravenna.
In the meantime, a meeting was called at Grand Island with the Bishop concerning the clearing of the church property and title.
With the permission of the Bishop of Grand Island and his assistance, the former title "St. Mary's" had been officially changed to "Our Lady of Lourdes".
About this time, Joseph Muegerl Sr., together with his family, had generously donated Lots 3, 4, 5, and 6 in Block 1 of their property officially to the church at Ravenna.
On February 9, 1953, the social hall was sold and the site was cleared for the new church.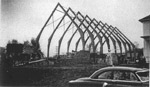 On Sunday, March 8, 1953, the Bishop blessed the site and turned the first shovel of earth. Subsequently the work on the super structure of the new church began.
In March 1953, St. Joseph's salvaged bell was retained with the remounting of this bell on a new yoke and a $1,600.00 automatic equipment added.
In July 1953, a meeting was held to amend Article 2 of Incorporation; raising the limit of possible indebtedness to $200,000.00.
August 30, 1953 — Corner stone setting by the Bishop.
September 23, 1953 — John Pesek, champion wrestler and native of Ravenna, through the suggestion of James A. Macek and asistance of the Holy Name Society put on a few wrestling bouts on behalf of the new church.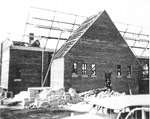 In November of 1953, a meeting by the Altar Society and Building Committee with the architect convenes to complete convenient kitchen plans.
Acoustical plaster was refused by the Church and Building Committee because of blotches and consequently, a new mixture of plaster was laid on the ceiling.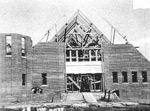 In December of 1953, a tragedy occurred when Tyra L. Hall (63), a steam fitter for DeCamp and Sons accidentally fell from the tower and died instantly in the building. Our prayers and sympathies go out to his loved ones.
February 1954 — St. Wenceslaus became a mission to Ravenna.
March 1954 — Holy Name repaired, painted, and made more kitchen and hall tables for the church basement.
April 5, 1954 — A small fire occurred on the north side of the church, but was controlled without any damage through sarifice and goodness of the Ravenna Volunteer Firemen.
The one-story and full basement unit has an overall area of 63 feet by 123 feet with seating capacity of 400. Other features are exterior walls of brick with pre-cast trim and concrete block backup. Main floor is of pre-cast concrete joists supported on clearspan steel beams. The roof is of laminated wood roof arches, wood purlins, and wood roof joists with asbestos shingles. Main floor contains Nave, sanctuary, two sacristies, mother's room with lavatory and baptistry. The basement contains a kitchen, meeting room, boiler room, storage, and rest rooms.
The building was completed on the Feast Day of the Solemnity of St. Joseph. Did St. Joseph respond to the planting of a medal in his honor?
On April 26, 1954, the first Mass was offereed in the new church upon a marble altar by the Bishop after a three hour consecration ceremonies and blessing of the church furnishings with the assistance of Rt. Rev. Msgr. Tschida V. McSweeney, and Anthony Radziewicz.
In the evening of April 26, 1954, His Excellency erected the marble Stations of the Cross assisted by Fathers Joseph Bean and Anthony Radziewicz.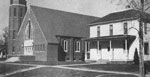 The Most Rev. John L. Paschang dedicated the new Our Lady of Lourdes Church on April 27, 1954, at 10:00 a.m. with a Solemn Pontifical Mass. He also graced the occasion by preaching the commemorative sermon.
It was celebrated with due pomp and ceremony in the presence of a capacity attendance of priests, sisters, parishioners, and friends of the parish.
A dedication banquet was held in the parish basement. Complimentary tickets were extended to all visiting clergy, Sisters, and many of the faithful through the contributions and generosity of some of our parishioners.
On May 24, 1954, the old church was taken down and salvaged lumber was auctioned off on June 12, 1954.
On August 25, 1954, a sidewalk was laid on behalf of the Holy Name followed by the seeding of Marian grass donated by a parishioner, Stanley Roy.
The entire building project left the parish with an indebtedness of $46,647.79. The total cost of the church, including furnishings was $174,078.40.
Financially, real credit goes to the great number of faithful parishioners who, with their loyal and constant support, contributed to the best of their earnings, and some a notable fractional part, in building Our Lady of Lourdes. Generous benefactors have also helped greatly in this cause. The church has no misgivings about the future. Financial obligations will be met and further forging ahead with be accomplished.
Until today, the parish has been busily engaged in insuring the financial solvency of the new church.
From November 1949, when the Building Fund was started, to December 1954, a sum of $94,911.34 was collected and contributed. Commemorative donations of accessories and integral parts of the building were and still being made by parishioners and many others not actively associated with the parish amounting to $32,519.27. A total sum of $127,430.61 was collected in all. Public fund raising projects were inaugurated and successfully accomplished. Societies and the people of Our Lady of Lourdes repeatedly increased their normal support of the parish so that today stands a triumphant and magnificent fulfillment of a dream, the new Our Lady of Lourdes Church. It stands on Sicily Avenue, Block 12 (Lots 10, 11, 12). Expansion plans are in order. The property northeast was donated by Joseph Muegerl Sr. and family now officially belongs to the church and may be possibly turned into a spot on which will stand a Catholic school and convent.
And so fulfillment of one dream, comes the birth of another. A dream made practicable and understandable each time one looks at this beautiful new house of God.
Physical properties are important in makeing provision for the continuity of our Holy Faith, but more important is the provision of vocations to priestly and religious life through which the great work of Holy Mother Church is carried on.
The following young ladies of this parish have entered the Sisterhood:
Of Ravenna proper: Sr. Sylvester (Anna Moritz), Sr. Borgia (Tillie Moritz), Sr. Martin de Porres (Joyce Jungles), Benedictine Order at Yankton, South Dakota.
Of St. Joseph's Mission: Sr. Mathildis (Rosa Muegerl), Sr. Thomasilla (Christina Muegerl), Sr. Generosa (Mary Blaschko), Sr. Viatora (Anna Schuller), and Sr. Edeltrudis (Helena Balschko), Sr. Macrina (Frances Schuller).
Present Vocations: Sr. Mary Michael (Julie Keaschall), School Sisters of Christ the King, Lincoln, Nebraska.
A vocation to the priesthood is Fr. Harlan Waskowiak.
Pray that God may bless Our Lady of Lourdes with many vocations to the priesthood and religious life.
The new church is a tribute and likewise a challenge to the parishioners of Our Lady of Lourdes. It stands as a tribute to their zeal and their loyalty and as a challenge that its beauty and dignity may be a motivating force in enhancing and developing their religious fervor and zeal. It stands as a testimonial of the previously mentioned understanding and cooperating, and to the king guildance, understanding and encouragement of our beloved Bishop. More than that, it stands as a monument to the Almighty God, as a reminder of the abundant graces and blessings He has showered on the members of this parish and upon all of these priviledged to be connected with the design and construction of the new church named after our dearest Mother..."Our Lady of Lourdes".